Learn tips for taking portrait photos that will bring out the best in your model, and make you "head and shoulders" above the rest! Improve your photography. Here are some portrait tips on lighting and posing that you won't find in most books.
Family Portraits

As photographers, we all end up photographing our family and friends at one time or another. If you're finding it tough to come up with original images, then try some of our fun family portrait ideas. Make sure you know how to create professional looking family portraits with these family portrait poses.
Photography Portrait Tips
I'm going to start with a radical suggestion. Throw out (or give away to your competition 😉 ), all your portrait photography textbooks; you know – those ones that are chock full of complicated lighting diagrams that show you where to place the lights and camera relative to the subject. Instead, learn these photography portrait tips that teach you to pose and light your subject according to unique characteristics of the subject's face.

© Larry Monczka
For some innovative tips on good portrait photography technique, check out this article by our special guest writer, Larry Monczka. Larry talks about everything from interactions between subjects to camera techniques like panning and zooming.


© Barbara Bender
For some portrait photography tips on how to photograph children so the images look "real" and natural, check out this article by another of my regular guest writers, Barbara Bender, on children portrait photography.
Portrait Poses
To start learning our portrait photography tips and methods, read about portrait poses. Here, I talk about how to position the camera according to your subject's facial features to make the face appear more symmetrical — and thereby more attractive.
Besides knowing which is your subject's "best side," when it comes to your shooting angle, you also need to know how to position your subject's body relative to the camera. Here, I give a few tips on body angle, and relaxed poses.
Portrait Lighting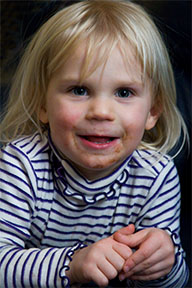 Yum! That chocolate was good!
© Julie Waterhouse Photography
To make good portraits, you need to learn portrait lighting, and how to light your subject in the most flattering way. Again, the best way to light a subject depends on the individual's unique facial features. Learn the right techniques to use to slim down round faces, fill out narrow ones, and avoid shadows in the wrong places.
Once you understand that the way you pose your subject, and where you place your lights depends on your subject's individual facial characteristics, then you're ready to learn about some of the traditional portrait lighting styles — broad, short, butterfly and Rembrandt. You will now be able to select the most flattering of those styles to suit your particular subject. And you'll be ready to create your own lighting set up!
Next, I recommend you start with the section on photography portrait tips.