Friendly & Constructive Photography Critique Videos
Learn beginner photography techniques through friendly and constructive photography critique videos!
It's hard to improve your photography without getting some outside feedback. In this set of videos, I'll be taking reader submitted photos and offering my thoughts on what works, what doesn't, and how the images might be improved. I'm not the final authority on what makes the best photograph, so these videos are just my opinions. I do hope, however, that you will find my thoughts of some value, and can use the ideas to improve your own photos.
This is a brand new series of videos that I'm experimenting with. Feel free to leave me some feedback in the Facebook commenting section at the bottom to let me know if you enjoy them, or want to see something different. Do come back and visit often, as I'll be adding a new photography critique each month. Enjoy!
Critique #4: Wolf Trail, Gatineau Park

NEW!
Thank you to Caje Rodriguez for sharing his lovely, moody image for evaluation.
Watch the video to learn about the importance of having a center of interest in your image.
Critique #3: Untitled
Thank you to Paddy Howes for sharing her beautiful flower image for evaluation.
Discover some cropping options, and some tips for subduing an overwhelming background.
Watch the photography critique video.
Critique #2: Untitled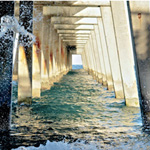 Thank you to Kimberly Pettit for sharing her lovely image for evaluation.
Find out how to check whether color or form is causing your image to be too busy. Learn to simplify by cropping to leave only the key elements.
Watch the photography critique video.
Critique #1: "Carmel Evening"
Thank you to Ron Kelman for sharing his beautiful HDR image "Carmel Evening" for evaluation.
Learn about where to focus to maximize your depth of field. Also learn to simplify your image through cropping.
Watch the photography critique video.
More beginner photography critique to come! Stay tuned…
Next, you may want to watch check out our collection of videos covering all kinds of digital photography technique.