Portrait Photography Technique
Larry Monczka, our special guest writer, offers some creative ideas to perk up your portrait photography technique. He covers everything from auras to zooming to help you take more creative people pictures.
Some Tips to Perk up Your People Portfolio
by Larry Monczka
Tip #1: Light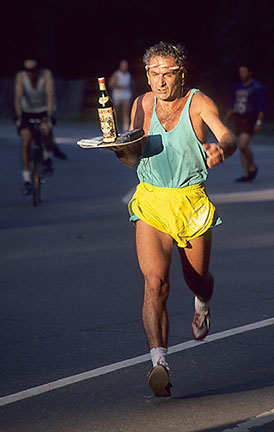 © Larry Monczka
The more I take people pictures, the more excited I get when I can make light work for me. I love the way backlighting can outline a bare torso with a pencil-thin band of intense rim light and imbue a golden aura around the hair of any subject, even on a bad hair day. Bright overcast days can make skin appear to glow from within. Even on harsh sunny days, a good portrait photography technique is to be on the lookout for that beam of light that penetrates through shady trees or bursts out from between buildings to highlight individuals in dramatic ways.
Tip #2: Colour
When on the prowl for people pictures, I'm always keeping my "third eye" peeled for subjects with rainbow hued hair, tattoos, funky clothing or accessories. Draping Aunt Helen in a candy apple red jacket may be a cliché, but it's a portrait photography technique that works.
Draping Aunt Helen in a candy apple red jacket may be a cliché, but it's a portrait photography technique that works.
Tip #3: Zooming
I use the zooming technique to give the illusion of motion to colourful but stationary subjects. It's also a good fall-back method for bringing home the bacon when the harsh light of midday calls a halt to traditional people photography due to high contrast. Highlights are toned down and shadows are opened up when zooming.
Tip #4: Pan Blur
Panning means following your subject with the camera during the exposure. The idea is to give an impression of motion by freezing that person against a blurred background. Don't be too eager to toss out images that are not sharp when using the pan blur technique. Motion painting is unpredictable. There are no "wrong" results with this portrait photography technique when personal expression is the goal.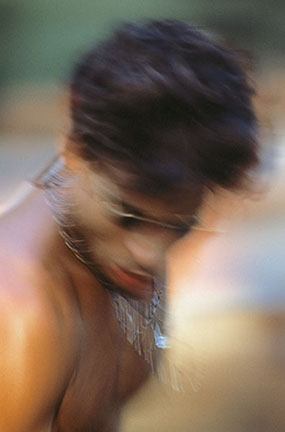 © Larry Monczka
Using pan blur
Tip #5: Off With Their Heads
Sometimes, you just can't do anything about busy or cluttered backgrounds. That's when I close in and have fun deciding how little I can include in the frame and still provide a clear sense of who my subject is. Colourful footwear, gnarled hands, tattooed torsos and vivid body language can speak volumes about age, character and life history.
Tip #6: Backgrounds
Never underestimate the power of a lousy background to ruin a photograph. There is a lot of satisfaction to be found in fine craftsmanship and good clean visual design. This refers to a background that reinforces the story in a simple, uncluttered manner. The background should not call attention away from the subject, although it can subtly contribute to the pictorial elements or mood by way of colour or tonal harmony.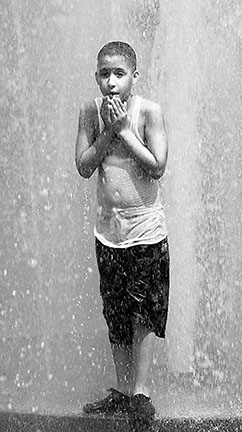 © Larry Monczka
Tip #7: Kids
Borrow a gaggle for a few hours, throw in a handful of colourful props, then start clicking. At fairs and midways, I often position myself near the rides to capture those peak moments of joy or terror that today's mechanical marvels induce. Don't forget to notice the crowds that line parade routes. Dick and Jane propped way up on the shoulders of Dad offer uncluttered opportunities for informal portraits.
Tip #8: Interactions
Individual portraits can be wonderful, but keep an eye out for group dynamics when looking for people pictures with pizzazz. The way two or more folks communicate with each other by way of eye contact, facial expression, body language and other subtle cues can allow your photographs to speak eloquently about the human condition. I often hang around park benches in the hopes of capturing the intimacy, or lack of same, that happens when strangers are thrown together in close quarters. These temporary retreats from our over-crowded urbanism can supply abundant material for musing on what it's like to be human in the twenty-first century.
Tip:
BetterPhoto.com teaches online photography courses on a whole variety of subjects. I've taken three of them myself, and highly recommend the company. They have a 4-week course called "Portrait Photography Using Available Light" that teaches many of the things that Larry talks about here. Secure Your Seat TODAY!
~Julie
About Larry Monczka
"In 1979 I happened to visit The Metropolitan Museum in New York City. 'Intimate Landscapes,' an exhibition of colour photographs by Eliot Porter was on display. I was thrilled by the beauty of his images of the natural world. That was it for me. Photography has been my creative outlet and avocation ever since.
Porter refers to the 'magic of restlessness' in the natural world. Acknowledging this, yet seeking visual order within the randomness, continues to give me great personal aesthetic pleasure."
Larry Monczka is a freelance photographer and writer. His articles have been published in PhotoLife, Outdoor Photographer, Nature Photographer and Shutterbug magazines. Make sure to visit his website:
Next, you may want to read more portrait photography tips.