Welcome to my 365 project. I'm taking and sharing one photo a day for a year, with the goal of growing my creativity and pushing myself to try new things.
Note: The widget above shows the most recent 20 images. To see the complete collection, please visit my Flickr photostream.
I have recently started a project to take one photo a day for a year, and post it for the world to see.
"Why?", you might well ask. In April 2011, I quit my job of 18 years at a large IT company to devote myself full-time to my photography-related endeavours. I felt like my creative muscle had somewhat atrophied after so long in IT. This exercise is intended to push me creatively and perhaps take my photography in a new direction. It's time to grow!
So far, the psychology behind the 365 project has been interesting. I'm delighted with the excitement I feel to get out and shoot every day! I do, however, feel "pressure to produce," especially given that I'm sharing the photos. I'm also fighting an urge to make them "perfect," since this might also cause me to keep them "safe." A large part of the goal of the project is to get me outside of my comfort zone (i.e., macro flowers and rural Ontario landscapes). That means shooting more experimentally, which will naturally lead to some less than wonderful images. You'll just have to bear with me ;-).
The other internal pressure I'm fighting is to take the images I think I ought to be taking. This comes back to having an audience, and is no doubt tied up with issues of ego! LOL! In any event, it's important for me to fight this pressure, and make sure I'm creating images that appeal to me. This 365 project is about exploring and discovering my own creative self. I can't be photographing for "someone else."
Finally, I've decided that I must not "cheat" by using extra photos from a prolific day on a day where I'm finding it tough. My rule is that the picture I post must be taken on the same day.
So far, this process has been really positive, and I feel like it's pushing me to grow creatively. I highly recommend the experience, and I encourage you to try it.
Update 1: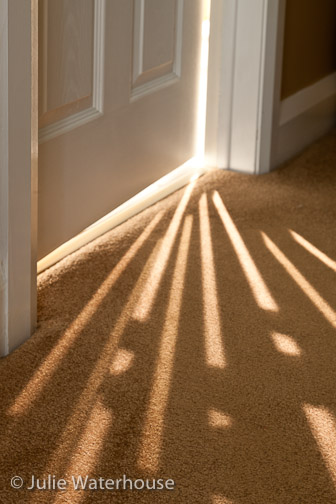 I have now reached the halfway point of my 365 project. I'm even more convinced now than when I started that this is a terrific way to improve your photography. I have made more images over the last 6 months than in any previous 6 month period. Not every one is a masterpiece, to be sure. I do , however, have many new images that I love that I know I would not have taken otherwise. In the past I would often observe something photographically interesting, but make only a mental note. This project has given me the extra motivation I need to actually pull out my camera and make an image. It's also pushed me to make images outside of my comfort zone. Working from home most of the time, I'm often in the same surroundings so I'm forced to get creative in order to produce a new image. The days where I don't feel motivated to shoot, and find my self scrambling late at night to find a subject (and yes, there are a fair number of these days!) are often the days where I produce a really interesting, unusual, or creative image. Yes, desperation does breed creativity! All in all, I'm thoroughly enjoying the experience, and heartily recommend it to any and all photographers. I guarantee that you will grow as a photographer if you commit to a 365 project and stick it out.
Update 2:
I finished the project! It gave me a great sense of accomplishment to complete a full year of photos (366 photos in all, since it was a leap year!). I definitely recommend this project to anyone as a way to grow and push your own boundaries. As a bonus, you will have a wonderful collections of unique photos at the end. I still enjoy going through mine, and drawing on them for further inspiration.
To help you stick to the project, I recommend that you go public! Share you project with the world on a website, and publicize it to your friends. There's nothing like a little social accountability to motivate you… Go for it! Happy shooting.
Barbara Bender, a guest contributor on this website, was inspired by my project to try her own. Now that she's reached the halfway point, read her account of her experience with a 52 week variant of a project 365.