Larry Monczka, Ultimate Photo Tips guest writer, encourages us to embrace the cold, and enjoy winter photography. Winter gives un an oportunity to get back to basic design principles, appreciate a subdued color palette, and (perhaps best of all?) sleep in for later sunrises!
Give Winter Photography a Shot
by Larry Monczka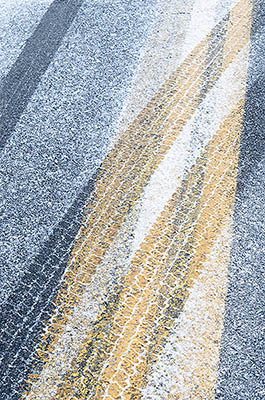 © Larry Monczka
Tire Tracks in the Snow
Being born and raised a Canuck, I think I was hard wired to hate winter. It's in the collective DNA of the tribe. And that was in the "bad old days" when winter weather could be expected, with a collective sigh, right after Canadian Thanksgiving. Fast forward to early January and we've only recently been teased with a suggestion of Old Man Winter's displeasure here in Southern Ontario where I live. Late, nothing to write home about, but dreaded nevertheless.
Sure it's cold — get over it, please. If our forebears could grimace and bear it with simple fabrics and animal skins, what's to whine about when modern materials specifically designed for the deep freeze are available everywhere? Are there any old timers out there who cast their minds back to the day when roll film used to get brittle in the cold and display "winter lightning" artifacts from static electricity when the film was advanced? At least I don't see that anymore with my memory cards when winter photography beckons.
I don't ski. I don't curl. Or ice skate. I've never been on a snow machine or strapped on snow shoes. But I love winter photography. The thing about winter photography for me is that it takes me back to first principles—those basic elements of visual design that I learned from Freeman Patterson in his books and in his workshops. I'm talking first and foremost about simplicity. In winter, as Andrew Wyeth noted, you can see the bone structure of the land.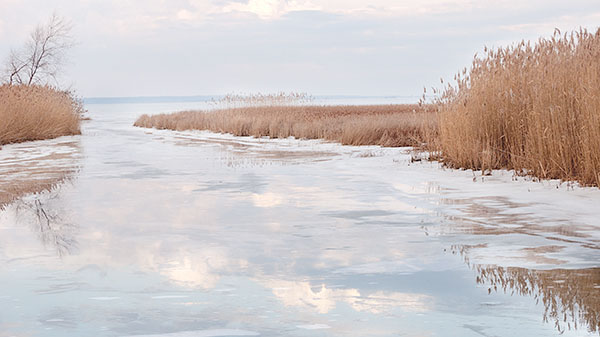 © Larry Monczka
First Ice – Long Point Marsh
Can you visualize the sensual curves of blowing snow, the vertical line of a lone tree in a white field, the sinuous pattern of first snow on a newly ploughed field, the abstract design of ice that has bubbled, thawed, re-frozen, cracked and crazed? Winter photography hones in on the basics — lines and curves, those universal shapes that convey emotion and subconscious meaning to viewers.
With winter photography, you don't have to "see past" colour like you do in the halcyon months when nature lays out a wild array of hues.
Nature in winter is all about subdued colours. Ground snow covers and smoothes over visual clutter. Falling snow acts somewhat like a white haze, casting a diffused veil over potentially busy backgrounds. Misanthropes rejoice! There are fewer people outside in winter to potentially mess up your pristine landscape shots with unsightly boot prints.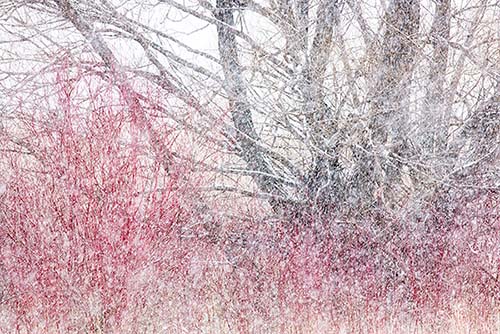 © Larry Monczka
Dogwood and Falling Snow
The weeks surrounding the Solstice with their shorter days offer an added blessing for outdoor winter photography. Instead of having to get up and into the field at an ungodly hour as in summer, 7:45 am sunrises are much easier on the system. Not to mention that those 5:00 pm dusks leave plenty of time to rejoin the pack for dinner. And don't take winter's low angled light for granted. Those long shadows and cool overtones only grace the landscape in this unique configuration during the cold months of the year.
Winter can be a monochrome time. It's a good opportunity to practice black and white imagery. With winter photography, you don't have to "see past" colour like you do in the halcyon months when nature lays out a wild array of hues. From November to February, structure and texture rule. Make tonality your winter photography mantra.. On sunny winter days, blacks are pitch black and whites are pristine. High contrast images abound and almost force you to see the world in graphic terms. This encourages simplicity in composition. In overcast weather scenarios, subtle shades of grey predominate. Train your eye to notice the infinitely nuanced transitional tones that can reward you with elegant images. And notice how shadows on cloudy winter days are softened and gently illuminated by the diffuse light. Snow can act as a natural soft box.


© Larry Monczka
Ryerse Road Landscape in Snowstorm
The Alberta based photographer Darwin Wiggett makes the point that the natural colour of winter is blue. He's onto something. Our brain fools us into seeing winter shadows as neutral although they register blue to our camera sensors. In fact, the winter landscape at the top and tail of the day is also interpreted by our equipment into various shades of blue. Why fight it? Wiggett even advocates changing the white balance setting on your camera to emphasize those cool winter hues. Another approach is to tone your monochrome winter photographs blue after the fact in post production.
Love it or hate it, winter photography is where it's at for the next few months in my world. So, even if you're inclined to agree with Robert Byrne when he says that "winter is nature's way of saying, 'Up yours,'" get out there, see simply –simply see.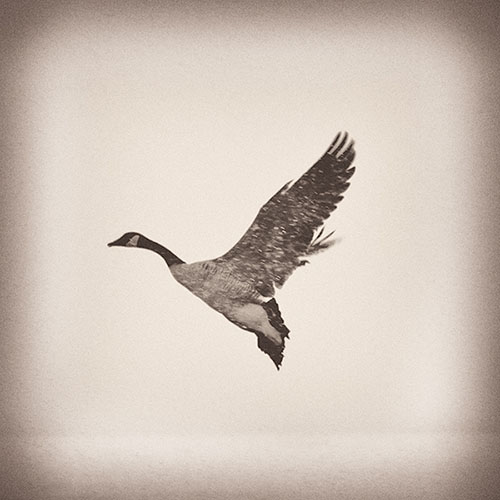 © Larry Monczka
Canada Goose Descending in Snowstorm
About Larry Monczka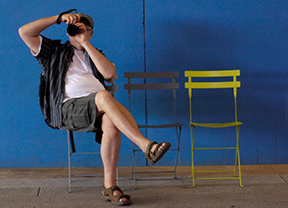 "In 1979 I happened to visit The Metropolitan Museum in New York City. 'Intimate Landscapes,' an exhibition of colour photographs by Eliot Porter was on display. I was thrilled by the beauty of his images of the natural world. That was it for me. Photography has been my creative outlet and avocation ever since.
Porter refers to the 'magic of restlessness' in the natural world. Acknowledging this, yet seeking visual order within the randomness, continues to give me great personal aesthetic pleasure."
Larry Monczka is a freelance photographer and writer. His articles have been published in PhotoLife, Outdoor Photographer, Nature Photographer and Shutterbug magazines. Make sure to visit his website:
Next, you may want to read more portrait photography tips.