Are you using your wide angle lens just so you can fit more stuff in the frame? Watch this video for seven great tips to help you get the most out of your lens. Using a wide angle properly can produce dramatic results that pull the viewer right into your image.

Spread the joy! Share today's tweetable!
Video Transcript
Are you using your wide angle just so that you can fit more stuff into the frame? If you are, I can help you do better. I'm Julie from Ultimate Photo Tips, and today's tip is all about using your wide angle lens. Wide angle lenses can be a bit tricky to use, but used effectively, they can produce some really dramatic results, and they can help your viewer feel they're really pulled into the scene. Today, I'm going to give you seven tips for using wide angle lenses. Ready? Here we go!
1. Get close to your subject. Get closer than you're used to – maybe even closer than you're comfortable with. But do get up close and personal. Your wide angle lens can focus close, so that won't be a problem.
2. Orient your camera vertically. Especially if you're shooting landscapes, consider orienting your camera vertically. If this is the ground, you're going to have your camera quite close to the ground, and you should probably angle it down just a little bit. That means you're going to get a lot of foreground in the image, but the field of view is wide enough, that you're going to see all the way up to the horizon.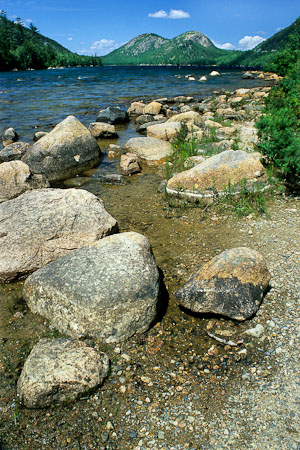 Orienting the camera vertically emphasizes the foreground
© Julie Waterhouse
3. Create a visually interesting foreground that's free of distractions. Because you have so much foreground in the image, and because it gets exaggerated so much by this lens, make sure it's interesting.
4. Make deliberate and careful compositions. Pay special attention to what's being pulled in at the edges of the frame.
5. Be careful when photographing people. When photographing people with a wide angle, body parts that are close ti the lens are going to be distorted and exaggerated, and it might look a little bit funny.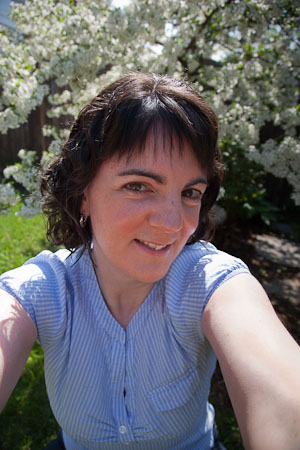 Yikes, distortion! Big head, big arms, scary photo! Shot at 24mm
© Julie Waterhouse
6. Be aware of distortion. If you're pointing your camera above or below the horizon, be aware that a wide angle lens can distort vertical lines. That can affect things like buildings.
7. Be careful when using a polarizing filter. The effect of the polarization, because it's such a wide angle, won't be even across the image. You may end up with a very dark blue sky on one side of the image, fading to a light blue on the other side.
Those are your tips or using a wide angle lens. Now it's time to try them out. Get out there with your camera, take some pictures, and experiment!
If you like this video, please like it, tweet it and share it with your friends. For more great tips, be sure to visit ultimate-photo-tips.com and sign up for my newsletter, where I share tips, ideas and inspiration that I don't share anywhere else!
Happy shooting, and I'll see you next time.