Unplug from technology and find photo inspiration in Nature. Freelance photographer Katherine Keates brings us a motivating article that serves as a wake-up call to reconnect with our natural surroundings.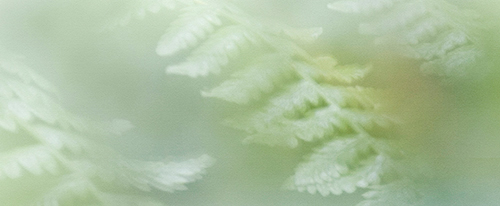 © Katherine Keates
Insights and Inspiration
from nature
by Katherine Keates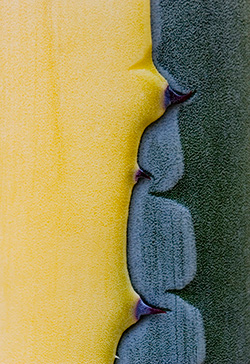 © Katherine Keates
Cactus Close-up Detail
In a day and age of high definition vision, media overload, and entertainment and communication in the palm of the hand, we have become increasingly hard to please, over-stimulated, yet at the same time, incredibly lazy. Mea culpa.
What we seem to have forgotten in this hubbub is how to quieten down, look deeper within and, for goodness sake, open our eyes. There are great works of art by Mother Nature herself that we brush by, step on and simply ignore in our quest for the bigger and better. While focused on SMS, iPods and iPads, the world is not only passing us by, but we are at increased risk of getting run over by it.
So I ask you: Is there any hope left for being struck by unsolicited, unplugged inspiration?
Perhaps so. At least I believe it.
"…believe it or not, creative photo inspiration is not something you can pick up on eBay from your Blackberry."
The best news of all is that to be truly, creatively inspired does not require expensive equipment and gadgets, or exotic tours and classes that promise take-home 'winning' images. And, believe it or not, creative photo inspiration is not something you can pick up on eBay from your Blackberry. In fact, you come equipped with the required equipment from day one, and it is FREE. The real secret lies in a killer combination of the mass of gray matter churning between our ears and two amazing orbs on either side of our nose that, when trained and practiced, can hone in on some of the most magical beauty known to humankind.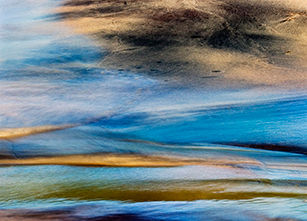 © Katherine Keates
Wave-washed Sand, Thunder Beach, ON, Canada
We boast of how the world is getting smaller as we zoom in and out with Google Earth and how we find our way with GPS instead of orienteering with maps and compasses. Is this new small world really something to brag about? Isn't it ironic, that when plugged in, our quest for photo inspiration dwindles exponentially? Can you still remember what happens when you pause, close in on your immediate surroundings, and allow yourself to feel the stirring within as Nature tells her incredible story? Perhaps this is the mysterious, exotic world we need to get to know or, in many cases, revisit.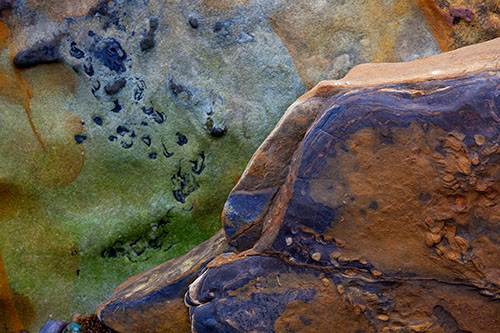 © Katherine Keates
Point Lobos Rocks at Low Tide, CA, USA
In the quietened mind's eye, the bark of a tree or cactus can become a provocative piece of art hanging in our planet's great gallery. The grains of sand on a beach offer texture and depth to a wave-formed sculpture that people simply walk over. Moving water washes colour over rocks like freshly dumped cans of paint. The vignetted leafy textiles of a garden or forest plant stimulate curiosity and wonder. All of this, and more, is out there, just waiting for us. So, be brave and take this challenge. Absorb all you can in this overly technical world because it is there for the taking, and it is useful; but then…STOP. Just go unplugged and unblogged for awhile. Capture a feeling instead of a trophy. Let the magic in, fill your pores, and let it move you to inner creative greatness.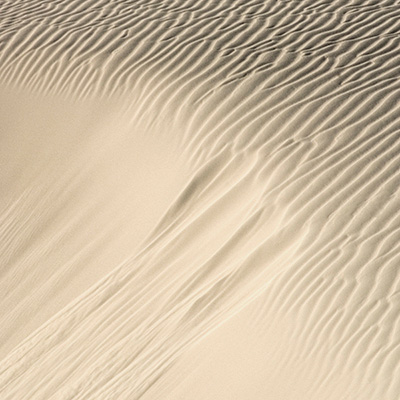 © Katherine Keates
White Sand Dune Close-up, South Africa
About Katherine Keates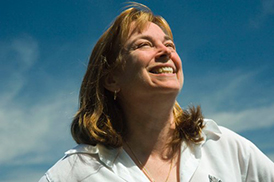 A photographer for many years, Katherine's love of photography has led her to explore many avenues in the art and craft of photography. She has explored and photographed in places such as South Africa, Namibia, Botswana, Kenya, Tanzania, France, Israel, Hawaii, Alaska, China, the Galapagos Islands, Ecuador and many North American national parks. She particularly loves to shoot on her home turf in Ontario, Canada.
She strives to present a unique vision and apply an artistic approach to all of her subjects. This national and international award-winning photographer has taught workshops and presented instructional programs. Her prints have been displayed in traditional and unique gallery situations, and in numerous exhibitions, and her work can be found on the walls of private homes and corporate offices.
She has participated on the speakers' circuit for the Greater Toronto Council of Camera Clubs specializing in Audio Visual presentations and is a qualified international photographic judge. She is currently an active member and Vice President of the Toronto Focal Forum print makers group.
Katherine is also a freelance writer and has had numerous articles and images published in both local and international photographic publications such as BBC Wildlife Photographer of the Year, Photo Life, Pets Magazine, Best of Photography, Local Colour and the CAPA Journal.
Katherine welcomes you to visit her website at:
www.katherinekeatesphotography.com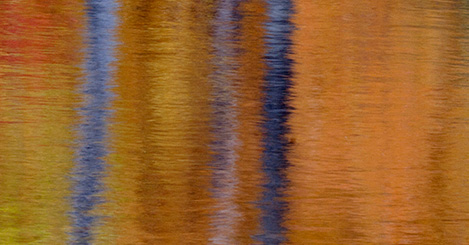 © Katherine Keates
Algonquin Park Autumn Reflection, ON, Canada
Next, you may want to read more articles from guest writers on learning digital photography.