Photo Challenges:
May 2010
Get ready for this month's challenge! Grab your gear! Let's go! This month's topic is (drum roll please)…
Color Collage
Here's the deal. Pick any color you like — just one, though. Then go out and spend a few hours shooting ONLY objects of that color. You'll be surprised how much that color will start jumping out at you after a while!
You can post a single image representing your chosen color. But much more fun is to make a collage! You can use this simple and free tool to make your own: http://bighugelabs.com/mosaic.php The tool can use photos you upload from your computer, or can pull images from a Flickr photoset or Facebook album.
Enter your super-amazing photos in our photo contests. The winning image will be featured on the Ultimate Photo Tips homepage for all of the following month.
Submit your image.
See what other people are submitting, and vote for your favorite:
View other entries.
My Orange Collage
Here's an example that I shot with the Toronto Photography Meetup group a couple of weeks ago on The Danforth in Toronto.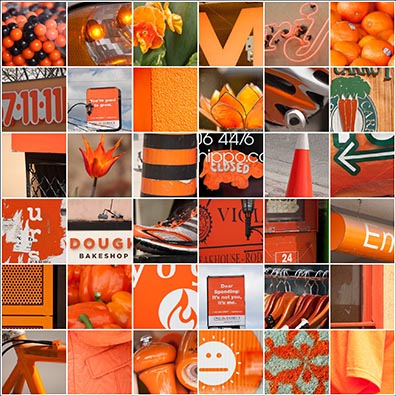 Orange!
© Julie Waterhouse Photography
***C2_invitation_22973458***