Landscape
Photography Books
What are the best landscape books about photography? I invite you to share your recommended photography books with our readers, and see what others suggest. Let's help each other separate the wheat from the chaff!
Find out what other people have suggested.
What are your favorite landscape photography books?
My Top Picks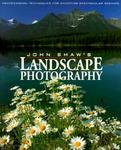 John Shaw's Landscape Photography
Author: John Shaw
Publisher: Amphoto
This one is a classic!
Although it was first published back in 1994, this book is still valuable today. Except for the brief pages on film, everything else is still relevant. Shaw discusses lenses, and their proper use for landscapes, how to design your image (composition), problem solving, and most importantly (in my opinion!) light.
The book is filled with gorgeous and inspiring images that illustrate the importance of light on the landscape.
Every serious and aspiring landscape photographer should own a copy!
***C2_invitation_22797102***
Next, you may want to check out what other readers have chosen as their favorite portrait photography book.