Best Books on
Digital Photography?
What are the best books on digital photography? There are so many out there that I thought it would be good to hear what you, dear reader, think! I'll give you a couple of my picks, and then I invite you to share which digital photography books you like.
Find out what other people have suggested.
What do you think is the best digital photography book?
My Top Pick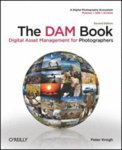 The DAM Book: Digital Asset Management for Photographers
Author: Peter Krogh
Publisher: O'Reilly
How many of us have hard drives that are bursting at the seams because of all our digital image files? As photographers, we all love to make more images! The end result can be gigabytes of data and a clogged hard drive. If you want to get it all organized, this is the book for you. It walks you through a step-by-step process to get your digital chaos under control.
Krogh talks about applying metadata to your images to help you organize your images and (even better!) find them again later. He talks about physical storage media for your files, and backing up your data so you don't have to suffer through the agony of losing your favorite images.
This book has helped me to put an effective system in place for managing my own images, and brought me peace of mind that I won't lose any important data.
***C2_invitation_22796904***
Those are our readers' picks for best books on digital photography. Next, you may want to check out top picks for landscape photography books.