A wedding photography shot list can be a great tool for communicating between the photographer and the bride and groom. Use this one to check off the selection of "must-have" poses. Add notes to indicate the location for each shot, and possibly the style of photography (e.g., formal or candid) expected for each one.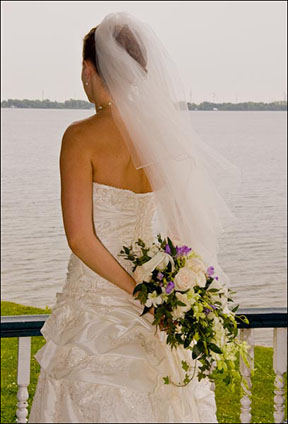 © Peter Ainley
Remember, there won't be time to take all of these pictures! The bride and groom should work on the wedding photography pose list with the photographer to determine priorities that will fit within the available time.
Events before the wedding
Engagement
Shower
Bachelor Party
Rehearsal Dinner
Preparation on the Wedding Day
The Bride:
Bride and bridesmaids getting hair done
Bride having makeup applied
Bridal gown hanging or draped over chair
Bride in front of mirror
Bride looking out window
Bridesmaids fastening the dress
Bride embracing parent(s)
Bride adjusting mother's corsage
Close-up of necklace, or other detail of bridal attire
Bride's shoes peeking out from under dress
Close-up of bridal bouquet
Bride putting on garter
The Groom:
Groom and groomsmen getting ready
Groom relaxing with the groomsman
Groom adjusting father's boutonniere
Parent or Best Man adjusting groom's tie
Groom embracing parent(s)
Wedding Ceremony
Exterior of the ceremony location
Guests entering
Parents being seated
Grandparents being seated
Congregation of guest shot from the groom's perspective
Officiant
Musicians
Altar
Pew decorations
Groom waiting at the altar
Groom with Best Man at the altar
Groom with Best Man and groomsmen at the altar
Flower girl walking down aisle
Ring bearer walking down aisle
Maid of Honor walking down aisle
Bridesmaids walking down aisle
Bride being escorted down aisle – from front
Bride being escorted down aisle – from behind
Parent embracing bride at the end of the aisle
Parent lifting bride's veil at the end of the aisle
Officiant speaking to bride and groom
Exchange of vows
Exchange of rings
Unity ceremony
Kiss
Details of any special cultural ceremony
Signing of register
Announcement of bride and groom
Bride and groom walking back up the aisle together
Bride and groom exiting ceremony site
Throwing of rice, confetti or blowing of bubbles at bride and groom
Bride and groom being greeted by guests
Group shot of all guests (on stairs, if possible)
Bride and groom getting into car to leave ceremony
Bride and groom's car driving away
Family and Bridal Party Portraits
Bride: full length
Bride from the back, to highlight gown
Bride and groom
Bride and groom with bridal party
Bride and groom with flower girl and ring bearer
Bride with groomsmen
Groom with bridesmaids
Bride and groom with bride's family
Bride and groom with groom's family
Bride with her parents
Groom with his parents
Bride and groom with all parents
Bride and groom with combined family
Reception
Overall picture of reception hall
A specific aspect of the decorations (specify)
Entrance of the bride and groom
A table centerpiece
A place setting
A dinner serving
Head table
Speeches and toasts
Kiss between bride and groom
Musicians or DJ
First dance
Father-daughter dance
Mother-son dance
The cake
Cake cutting
Bride and groom feeding cake to each other
Bouquet toss
Garter toss
Bride with college friends
Groom with college friends
Getaway car
Bride and groom leaving in getaway car
Feel free to customize this wedding photography shot list to suit your needs, adding notes on locations or photography styles, as appropriate.
You may want to review my wedding photography checklist for the photographer.
You may want to review my wedding photography checklist for the bride and groom.