Ultimate Photo Tips
Will Help You Take Photos That "Wow"
Ultimate Photo Tips is here to:
teach you to take photos you can be proud of through helpful photo tips, articles and videos
inspire you with beautiful images and original ideas
draw out your inner creativity through exercises and examples
Sound interesting? Enter your name and email below to get my free updates:
What Readers Are Saying About Ultimate Photo Tips
"I'm currently studying a professional photographic development course to realise a lifelong dream of running a successful freelance photography business, over the past weeks your website has been an amazing resource of information and inspiration … And I would like to thank you for all your hard work sharing your obvious love of all things photo. Thank you." ~Steven
"Hi Julie, I live in Australia and have just come across your website. I am a beginner photographer and have done a few courses and read a photography book front to back but havn't enjoyed or learnt as much as I have since reading your information. You make it simple to understand and you examples are fantastic. I wish I had found your site months ago. Well done on a great site and supplying such useful and easy to understand information. I am hoping to submit photo's to your monthly challenges. Thankyou!!" ~Lisa
"Just a couple of lines to complement and congratulate you on your superb and inspiring images. Your well-designed,inviting and "giving" webpage is an object lesson in 'how to' for others. I am blown away!" ~Suresh
"This is just to say thank you for putting your great website together. I find it really inspirational and informative. The piece on Visual weight was absolutely fascinating reading. I also really like your ideas section, I'm going out to buy some food coloring and some silver foil tomorrow. I'm also intending to photograph my bathroom! […] Thank you so much. More power to you." ~Craig
Become a More Creative Photographer
Did You Know?

Being creative makes you happier, and being happy makes you more creative. It's the perfect positive feedback cycle! Also, being good at something helps you enjoy it more, and feel more fulfilled.
What is creativity? Creativity encompasses both vision and execution. This means that photographic creativity has two parts: the art and the craft. You must first be inspired with a great idea, but then you must also translate that idea into a final image so that it can be understood by your viewer.
I firmly believe that both the technical AND the "artistic" aspects of creativity can be learned through training and practice. Here on Ultimate Photo Tips, I want to provide articles, images, exercises, and challenges that will both inspire and teach creativity so that you can master the skills necessary to take great images, and reach your full creative potential.
Do You Fear That You Are Not Creative Enough?
Everyone has the potential to be creative! If I can do it, so can you!
Many people tell me that they don't think they are creative. Often those people come from technical or scientific backgrounds where logic and analytical thinking are emphasized, often (sadly) at the expense of creativity.
Good news! Creativity is fully compatible with being analytical. Research shows that the conventional wisdom of left-brain logic versus right-brain creativity is flawed. Creativity, and in fact, all complex activities, integrate both left and right brain thinking.
So take heart! You won't find a more analytical thinker than I am! I spent nearly 25 years of education and working in a highly technical field. Frankly, I felt sapped of my creativity. That creativity was, however, still inside me, and just needed re-awakening. Photography has been the catalyst that has put me back in touch with my creativity — and my happiness.
I look forward to sharing your creative journey through photography, and hope you will revisit Ultimate Photo Tips many times to learn and be inspired.
Are you ready to kick your photography up to the next level? Then enter your name and email below to get my free updates:
About Julie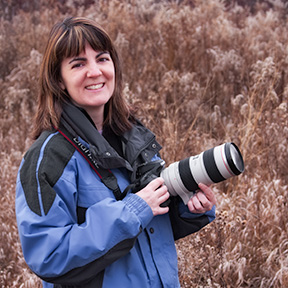 © Peter Ainley
Julie Waterhouse is the author and photographer behind the Ultimate Photo Tips website. Julie is a fine art photographer and photography instructor. She resides in Markham, Ontario, Canada, just a short drive from the local farmland and woods she loves to photograph.
Her current work is focused on two themes. The first is Ontario farmland. She grew up in a rural area outside Ottawa, and feels very much at home in that environment. She has recently combined this subject matter with her new interest in night photography. The second theme is macro photography of natural subjects, with a special passion for flowers. This reflects the love of details that pervades all aspects of her life. Julie has created a beautiful book that pairs her flower images with inspirational quotes.
She is passionate about photography, and loves to teach workshops, coach one-on-one, and share her passion in any way she can. This website was born out of a desire to reach even more budding photographers.
She has taken photographic courses and workshops from Freeman Patterson, Tony Sweet, Richard Martin, John Paul Caponigro, and Lance Keimig. Julie's photography has won numerous awards, and her prints have been exhibited internationally.