June 20, 2012
Hello!

This month marks the start of "wedding season" where I'm from, so I've included some wedding photography tips. There's also some advice on (not) photographing in the bright, harsh sunlight, as well as a creative challenge for you in the form of a photographic scavenger hunt. Check out a link to some gravity-defying photos. Also, a heads-up that our mailing list will be moving soon, and I want you to move with us! All this and much more – read on!
This Month at Ultimate Photo Tips

Wedding Photography Tips
Summer is here in my part of the world, and with it comes wedding season. What if a friend asks you to photograph their wedding? Should you accept? Here's an article that addresses that question, and — assuming you decide to proceed — includes a few checklists for the wedding photographer to keep things running smoothly. I'll freely admit that I don't do much in the way of wedding photography, so I'd love for any of you to do to leave a comment on the article if you think I've missed anything out!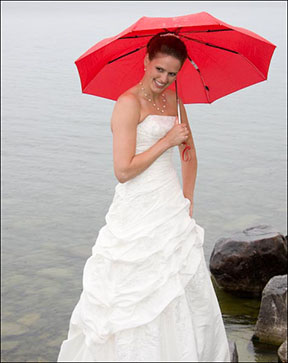 © Peter Ainley
READ MORE:

https://ultimate-photo-tips.com/wedding-photography-tips.html
We're moving!
I'm staying right here in the Markham, Canada area, but my mailing list will be moving soon. I've decided it's time to migrate to a new system that will allow me to provide more professionally produced newsletters. We'll have the same great content, but in an easier to read (and easier to create!) format. In next month's issue of Worth 1000 Words, I'll give you the simple steps to take to move over to the new list. For now, there's no action for you to take – this is just a heads-up!
Your Thoughts
The histogram is one of the most important tools that digital photographers have to get instant feedback on their exposures. Any blown out highlights? Blocked up shadows? The histogram will tell you. In last month's poll, I asked how many of you use your histogram. I'm happy to see that 32% always do, and another 39% sometimes do. 12% said never, and 17% asked what's a histogram? To the last two groups, I recommend the following article, which will give you the ABC's of histograms, and get you using them like a pro!https://ultimate-photo-tips.com/what-is-a-histogram.html
This month, I'd like to find out whether your favorite photo (that you've taken yourself) is in color or black and white. Cast your vote in this month's poll, and let me know! The poll is in the right-hand nav bar of the website:
https://ultimate-photo-tips.com/
Photo Challenges
The topic for May's challenge was "Bridges." There were some terrific photos submitted, depicting bridges of all sizes, from all different perspectives, and from all around the world. Thanks to everyone who participated! Enjoy the winning image, which was a beautiful black and white silhouette by Pierre Falzon that included some people as a key element:

https://ultimate-photo-tips.com/photo-challenges-winner.html



The topic for June's challenge is "Roads." I'll take anything from a cart track to a super-highway, curved or straight! Let's see where the road takes you. Enter your photo here:

https://ultimate-photo-tips.com/photo-challenges-june-2012.html
Creativity Exercise
Scavenger Hunt
On my last photo workshop, I decided to have a scavenger hunt. I gave everyone a list of ten items to look for and photograph while we were out. The idea went over well, and people had a lot of fun with it. It gave some purpose to people's exploration, and helped to give them a nudge when they needed inspiration.
This is an exercise you can easily do with your friends or your photo club. Everyone who participates can submit one item, and then the group has to find and photograph them all. You can set a time limit of a single outing, or a week, or even a month to complete the list. You could even have a prize for the first one to finish.
The items you choose don't have to be too specific, like a red shoe. I think it's better to leave them open to a little interpretation to allow people to be more creative. A few items off the list I used last week were "something red," "a shadow," "part of a person," and "something photographed from ground level." The only limit is your imagination! Have fun with it.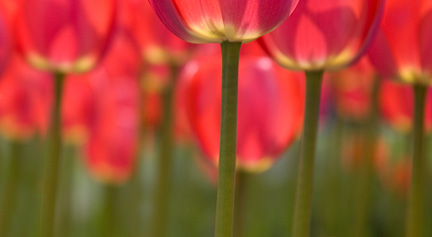 Something red AND photographed from ground level!
© Julie Waterhouse
Feel free to share your experience and your images on our Facebook page:
http://www.facebook.com/UltimatePhotoTips


Tip of the Month: Something Every Photographer Needs to Know
Beware the Harsh Light of Summer
Beware the harsh light. The very same sunshine that makes it great to be outside can actually be the worst light for your pictures. The bright, mid-day sun casts very harsh shadows, and produces a range of light to dark tones (called "dynamic range") that is often too great for your sensor to properly record. This results in pictures with "blown out" highlights (areas of your image that are rendered pure white with no detail), and "blocked up" shadows (areas of your image that are rendered pure black with no detail). To avoid this, try to shoot during what photographers like to term the "golden hour:" the half hour before and after sunrise and sunset. The light is warmer (more yellow in color) at this time of day, and casts softer shadows. If you are photographing people during the day, try to move them into the shade to avoid squinting eyes, and dark shadows on faces.
Read more about light here:
https://ultimate-photo-tips.com/visual-design-elements.html
Cool Link of the Month
Natsumi Hayashi's Gravity-Defying Levitation Photos
Photography projects that you set for yourself are really great ways to stretch yourself creatively and grow your photography skills. I was inspired by this project, where the photographer takes self-portraits with a twist. In each one, she appears to be floating in the air. These were not easy to create…

http://lens.blogs.nytimes.com/2012/04/23/not-just-a-jump-but-levitation/






Happy shooting from Ultimate Photo Tips!