Thank you for confirming your subscription to Worth a Thousand Words.
A welcoming e-mail is already on its way to you!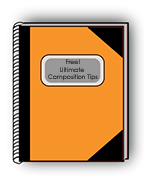 Download your FREE eBook!
By subscribing to our eZine, you are eligible to receive a FREE 8-page eBook full of composition tips designed to help you to become more deliberate about your photographic composition. You'll learn to rely more on your skills, and less on luck, to capture great images!
Please click here to read the PDF in your browser, or right-click to download it.