Hello!



Welcome to the start of a brand new year! I hope it brings you health, happiness, prosperity, and many great photo opportunities! You may notice that I'm experimenting with a slightly different look and feel to the eZine this month. You'll still find the same great content, though! This month's article is on winter photography. And as always, there's a creativity exercise, tip of the month, cool link, and more! Enjoy!
Give Winter Photography a Shot!
Larry Monzcka is back with another great article. It's winter, here in Canada, and Larry encourages you to embrace the season, and enjoy the photographic opportunities it presents.

"…I don't ski. I don't curl. Or ice skate. I've never been on a snow machine or strapped on snow shoes. But I love winter photography. The thing about winter photography for me is that it takes me back to first principles—those basic elements of visual design that I learned from Freeman Patterson in his books and in his workshops. I'm talking first and foremost about simplicity. In winter, as Andrew Wyeth noted, you can see the bone structure of the land…"

READ MORE:
http://www.ultimate-photo-tips.com/winter-photography.html
Creativity Exercise
Learn to See in Monochrome
Some photographs rely on color to make them successful. I have an image of a single red tree amidst a group of green ones, telling the story of the start of Autumn. That image wouldn't work in black and white because the red and green trees have the same tonality, and would be the same shade of grey when rendered in black and white.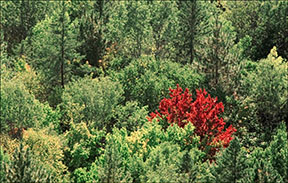 This month, your challenge is to look for images where the story is told through tonal, rather than color contrast. These are images that will work well in black and white. In such images, color can be a distraction; converting to black and white can actually strengthen your story.
It takes practice to see in monochrome. Try to pre-visialize your final black and white image when you are evaluating a scene. Look for lines, textures and shapes that are created by differences in tone, not color.
TIP: Even when shooting in RAW, you can change your Picture Style (Canon), or Picture Controls (Nikon) to Black and White or Monochrome, respectively. This can give you an idea of how the picture will look without color, even before processing.
Read more about light and tonal contrast:
http://www.ultimate-photo-tips.com/visual-design-elements.html
Tip of the Month: Something Every Photographer Needs to Know

Do You Wait for People to Get Out of the Way?
As a nature photographer, my instinct is to want my scenes to be "pure" and free of people. I've learned that this isn't always a Good Thing. If you often find yourself waiting until everyone has walked out of your shot, then read on and consider changing your ways!

Including one or more people in your photograph has some advantages. First of all, the presence of a person in an image helps the viewer to relate to the scene by making it easier to imagine themselves in that location. This is why magazines love nature photographs that contain people. It pulls their readers right into the page.

A second reason to include a human figure in your photo is that people give a sense of scale to a scene. Sometimes, depending on the perspective of a photo, it's hard to tell whether you're looking at a puddle or an ocean. Since people are easily recognizable, and are a known height, a person in a photo immediately gives us something to which we can compare the size of other elements. A tiny figure in a landscape will emphasize the vastness of the scene. Including a hand in a macro shot of a ladybug will illustrate just how small the insect is.

People aren't all bad! Try including a person in your next Nature shot. If there's no one else around, set your timer, and include yourself in the shot!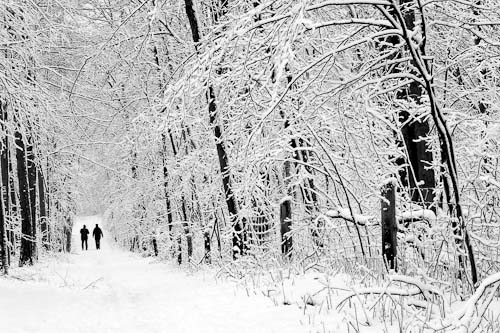 Cool Link of the Month
Capturing 24 Hours in a Single Photo
Check out this fascinating photograph from "The Greek Sky" website, along with a detailed tutorial describing how it was made.
http://www.greeksky.gr/files/photos/tips/20101230Sounio24Tutorial.htm
What's New this Month at Ultimate Photo Tips

Your Thoughts
In last month's poll, I asked how often you use your tripod. The results produced a near-perfect bell curve! 9% said "never," 10% said "always," or "almost always." The rest of you were in the middle. 17% said occasionally, when you remember. Finally, the vast majority of 61% said that it depends what you're shooting, but you use a tripod at least half the time.

This month, I'd like to find out what kind of print lab you use. Do you use a pro lab? A drugstore lab? Print your own? Cast your vote in this month's poll, and let me know! The poll is in the right-hand nav bar of the website:
http://www.ultimate-photo-tips.com/
Photo Challenges
The topic for December's challenge was "Sunsets." Given the dull, grey winter we're having in Toronto, many of the images made me wish I were right there in the scene!. Make sure to take a look at the stunning winning image, "Great Sand Dunes National Park Sunset," by Lance Gitter:
http://www.ultimate-photo-tips.com/photo-challenges-winner.html

The topic for January's challenge is "Clouds." Sometimes we forget to appreciate the amazing beauty of the sky above. This month, I encourage you to look up! Then take a photo, and enter it here:
http://www.ultimate-photo-tips.com/photo-challenges-jan-2012.html
Some Local News
Tony Sweet is coming to Toronto, Ontario, Canada on March 24th, 2012. The Toronto Digital Photography Club will be hosting his presentation. Check out their website for more information:
http://torontodigitalphotoclub.com/2012_seminar/2012_seminar.html

If you haven't already, check out my podcast interview with Tony, where we talked about his thoughts on photographic creativity:
http://www.ultimate-photo-tips.com/tony-sweet.html


Happy shooting from Ultimate Photo Tips!