Hello



This month, we have a couple of great new articles on family portrait photography for you, with creative ideas and poses. We also have some tips to get you experimenting with backlight, a pointer to a very cool website with underwater dog photography (yes, you read that right!), and a reminder that today is the last day of OnOne Software's $100 off deal. Read on!
Fabulous Family Photos
"Today's style of family portraiture has evolved from the very stuffy and formal poses of the past, where the men were in ties, the ladies in dresses, and everyone lined up neatly and smiled into the camera. Instead, families are looking for natural, candid photos that capture something personal and unique about them."

Stuck for exciting family portrait ideas? Looking to avoid awkward family portrait poses? I've just completed a pair of articles that will give your family photos a boost. READ MORE:
http://www.ultimate-photo-tips.com/family-portrait-ideas.html
Creativity Exercise
Pick a Color! Any Color!
Pick a color, or even better, have someone pick a color for you. Then, grab your camera, and spend a few hours photographing only things of that color. This sounds very simple, but it will get you photographing subjects you wouldn't ordinarily consider shooting. An urban environment works best for this exercise, so that you are surrounded by lots of colorful material.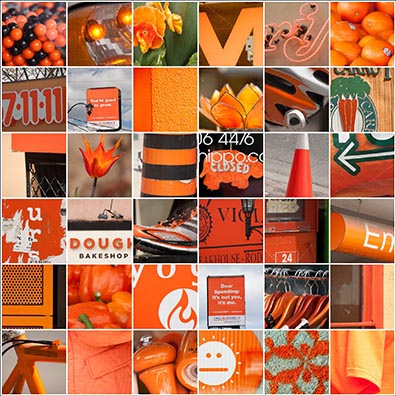 Above is a collage of photos I took in downtown Toronto when my assigned color was "orange."
Tip of the Month: Something Every Photographer Needs to Know
OnOne Software Deal
Don't worry! I'm not going to get too commercial on you. But this week, OnOne Software is having such a great sale that I wanted to share it with you. I've been using OnOne Software's plugins for years, and love them. I'm proud to share my affiliate link to them (click on image):
PhotoSuite 6 is a combination of all seven of OnOne's tools, including software for polishing portraits, resizing photos (e.g., to significant;y up-res them), making masks with tough subjects like hair, and creating professional photographic effects. You can buy it as a standalone application, or as a plugin to Photoshop, Lightroom or Aperture. It's regularly $299, and this week only, it's on sale for $100 off. That's a 33% discount, and the best deal I've seen from these guys. It's worth checking out! The sale ends TODAY (February 15th).
http://www.onOnesoftware.com/affiliates/idevaffiliate.php?id=316
Cool Link of the Month
Underwater Dogs
I came across these absolutely amazing images earlier this week, and just had to share. These are photographs of dogs taken under water by professional lifestyle pet photographer, Seth Casteel. Super cool!
http://www.littlefriendsphoto.com/index2.php#/gallery1/1/
What's New this Month at Ultimate Photo Tips
Family Portrait Poses
Make sure you check out part two of the family portrait ideas article that I linked above. This one has great ideas forsuccessful family portrait poses.
http://www.ultimate-photo-tips.com/family-portrait-poses.html
Your Thoughts
In last month's poll, I asked what kind of print lab you use. I was genuinely surprised by the results. It looks like times are changing! The vast majority of respondents (63%) said that they don't print their photos at all. It's truly a digital world now! A further 25% use their own printers, and as for the rest, 7% use a pro/custom lab, 3% use a mini lab, and 2% use a grocery, discount or drugstore. Interesting!

Sometimes, we photographers can get carried away with our desire for more equipment. This month, I'd like to find out how many lenses you have that you actually use on a regular basis. Just one? Two or three? Or enough to open your own camera store? Cast your vote in this month's poll, and let me know! The poll is in the right-hand nav bar of the website:
http://www.ultimate-photo-tips.com/
Photo Challenges
The topic for January's challenge was "Clouds." The topic resulted in some fantastic submissions, and got everyone looking up for a while. Nature really produces some amazing skies. Make sure to take a look at the dramatic winning image by David Colton:
http://www.ultimate-photo-tips.com/photo-challenges-winner.html

The topic for February's challenge is "Curves." This month, take some time to think about the lines and the shapes in your images. Curves are a great way to get your viewer's eye to meander all around your photo. They can also be sensual, and show both hope and melancholy. It's time to show off your curves! Enter your photos here:
http://www.ultimate-photo-tips.com/photo-challenges-feb-2012.html


Happy shooting from Ultimate Photo Tips!